Upcoming Events
NEW BIBLE STUDY!

click on image for information

THURSDAYS AT 7PM
October 3 - December 12
$30 per person (book fee)
REGISTER ONLINE HERE
For Registration by mail
download form HERE

From the Pastor
My Dear Parishioners,
Today's culture strongly encourages us to live self-centered lives instead of Christ-centered lives, to serve Mammon instead of God. There have been periods of history in which the popular culture was actually Christian, when the current of culture actually helped people be true to their Christian mission. We do not live in a period like that.
For us to be "trustworthy in the small matters" of life, so that we can be trustworthy in the great ones, we have to make a conscious effort. We have to remember that the small choices we make each day either draw us closer to Christ or push us away from Him. If we get sucked into a gossip session, we are weakening Christ's Kingdom. If we go the extra mile to help a relative or a colleague in need, we are strengthening it. They key is to remember to create a habitual mentality that sees daily life as an arena in which we are battling for or against Christ. Another word for that habitual mentality is faith.
Our Christian Faith is more than just a list of beliefs; it is the way we see the world. Since faith is a virtue, we can help it grow by exercising it. One of the best ways to exercise it is by developing a disciplined prayer life. Taking even ten minutes in the morning and ten minutes at night to speak with Christ about what is important to Him and what is important to us does wonders for keeping our Faith in shape.
Today, let's ask Christ to strengthen our Faith, so that we can serve Him better, and let's promise Him that this week, we will do our part to keep our Catholic Faith in shape.
Peace, Fr. Mike
News
Click on the icon above to go to our Facebook page with the latest photos and videos of our events.
---
NEW! 2019-2020
CCD REGISTRATION
St. John the Baptist CCD Registration for the 2019-2020 academic year is now temporarily closed until classes begin on September 30. After classes begin, late registration will reopen and children will be placed in classes as space permits. For updated information about our CCD program, please visit our Religious Education page here.
---
Click for Online Giving!

Parish Store
OUR OWN
PARISH COOKBOOK!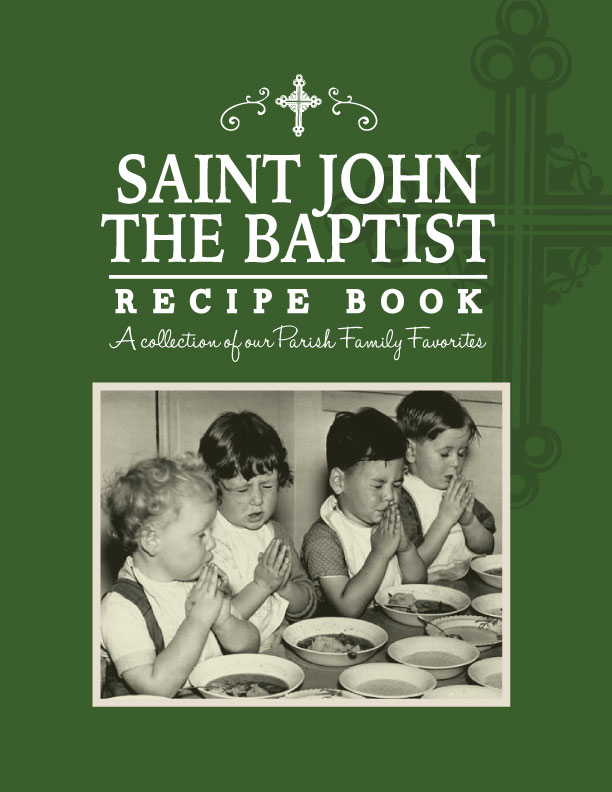 click HERE
to go to Store Page