Upcoming Events
NEW BIBLE STUDY!

click on image for information

THURSDAYS AT 7PM
October 3 - December 12
$30 per person (book fee)
REGISTER ONLINE HERE
For Registration by mail
download form HERE

From the Pastor
My Dear Parishioners,
This week in our Gospel, Jesus shares His intention to set the world ablaze. In the scriptures, fire is an image often used to describe God's burning love for us and His assistance. We see this in Deuteronomy 4:24, "For the LORD, your God, is a consuming fire." Also, in Exodus 13:21-22, " The LORD preceded them, in the daytime by means of a column of cloud to show them the way, and at night by means of a column of fire to give them light. Thus they could travel both day and night. Neither the column of cloud by day nor the column of fire by night ever left its place in front of the people."
God's love is meant to be all-consuming and draws us into a deeper relationship with Him. So, by Jesus saying He wants to set the world ablaze, He wants us all to be in that love and guided by it. This love finds its highest expression in the Son of God become man: "God so loved the world that he gave his only Son." (Jn 3:16) Jesus offered His life for us that we may have new life.
Through this new life, we Christians should become set on fire in the same way as Jesus set His disciples on fire as we read in Psalm 39, "My heart became hot within me, a fire blazed forth from my thoughts." What could this fire be if not from the Fire that Christ talks about, "I came to cast fire upon the earth, and would that it were already kindled?"(Lk 12:49)
The only way to strengthen this fire is through prayer; so let us keep our hearts open to the love of God and allow him to stoke the fire of His love within us.
Peace, Fr. Mike
News
Click on the icon above to go to our Facebook page with the latest photos and videos of our events.
---
Labor Day Schedule
We will not have Adoration of the Blessed Sacrament on Labor Day, Monday, September 2. Mass will be celebrated as scheduled at 7pm. Please note that the Parish Office will be closed on Labor Day.
---
NEW! 2019-2020
CCD REGISTRATION
St. John the Baptist CCD Registration for the 2019-2020 academic year IS NOW OPEN. To begin, please visit our Religious Education page here.
---
Click for Online Giving!

Parish Store
OUR OWN
PARISH COOKBOOK!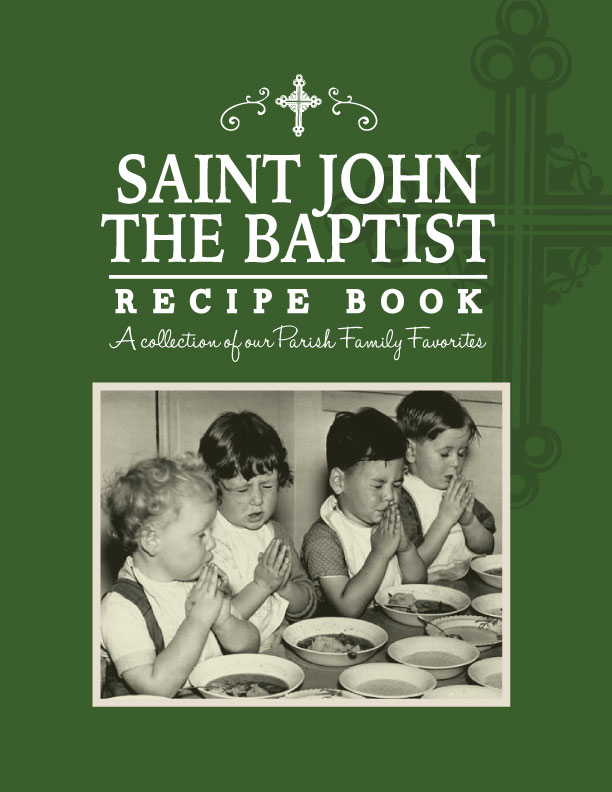 click HERE
to go to Store Page