Upcoming Events
Saint John the Baptist Church Youth Group
IGNITE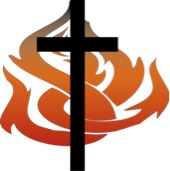 Open to Youth
6th through 12th Grade
The group meets on Sundays from 6:45pm - 8:15pm
in the Church Hall
DON'T MISS THE ICE CREAM SOCIAL THIS SUNDAY, SEPTEMBER 21!
All of our 6th-8th Grade Religious Education students are invited!
WELCOME TO THE SAINT VINCENT DE PAUL SOCIETY
We are happy to announce the formation of a Conference of the Society here at the Church of Saint John the Baptist. Click HERE for more information about the Society in our Diocese. If you are interested in volunteering with this wonderful organization, please send an email with your name and phone number to sjbbusiness@optimum.net. You will be contacted shortly.
From the Pastor
My Dear Parish Family,
"Smile, God loves you!" isn't just an old bumper sticker or a tired cliché. Because we are His people, God leads us and guides us and disciplines us out of love. Out of that same Heart, Jesus calls us to help one another come to know that love more and more. This should certainly bring a confidence to our walk and a smile to our face. He calls us not to judge and put each other down for our faults, but to call one another on in charity to seek out that perfect love of God. In the book of Proverbs, this sentiment is said well, "Iron is sharpened by iron; one person sharpens another." However, this is done in a spirit of love and compassion. The end result is meant to help each other in holiness and to unite us in faith.
Saint José Maria Escriva once wrote, "Starting from Jesus' teaching and example, fraternal correction has become a sort of Christian family tradition." The goal of this correction is to call our brother or sister onto the path of holiness but without ego or judgment. If we see our community as a family and keep in mind that the Eucharist unites us in a supernatural way, then we can see the unity in charity that Christ wants for us. He views His Church as one body united in His love. He charges us then to seek out those who have fallen away or who have yet to enter fully into the Sacraments of His Church.
Now is a perfect time for you or someone you know to enter fully into the Church. If you have not made all your Sacraments, please give serious thought and prayer to joining RCIA. I ask that you continue to pray for me as I will pray for you.
Saint John the Baptist, pray for us!
Rev. Brian Patrick Woodrow
News
Be sure to visit our Facebook Page!
BREAKING NEWS! We are happy to announce our SJAC Youth CYO Fall basketball teams! Click HERE for the information flyer/registration form. Be sure to sign up today! We expect these teams to fill quickly.
Our 6th through 8th Grade Religious Education students are invited to the IGNITE Youth Group's Ice Cream Social, on Sunday, September 21 from 6:45pm-8:15pm in the Church Hall. Don't miss this great chance to visit our youth group!
Classes for our Religious Education Program began on Sunday, September 14.
Are you interested in becomming fully initiated in the Catholic Church? Our RCIA Program will assist you. Classes begin this month. Please contact Vince Gelsomino at our Parish Office for more information.
The Great Adventure Bible Timeline Series is presented on Thursdays at 7:00pm in the Knight's Hall. The program will cover the New Testament through the end of October. Please see our bulletin for more information, or contact the Parish Office.
Please support our Knights of Columbus as they host the 10th Annual Foursome Scramble Monsignor Leonard Toomey Memorial Golf Outing at Falcon Creek Golf Club at McGuire Air Force Base on Friday, September 19, 2014 at Noon. Registration information can be found in the bulletin.
Campus Updates
We are happy to share some of the recent updates to our beautiful Campus:
The classrooms in the Religious Education Building have been cleaned and painted in preparation for the new school year.
The Parish Hall has been completely painted and updated with a new floor and lighting.
The Church and Rectory roofs have been repaired.

The Parish Office has been renovated to accomodate the new conference area and individual offices.

The Parking Lot paving has been completed, and additional lighting needs are being addressed.
The Campus Grounds are being maintained and used for Parish events, including the recent Parish Picnic and the SJAC Luau.