Upcoming Events

Mark your calendars
for our

ITALIAN FESTIVAL!
Friday, September 18
Saturday, September 19
6:00pm - 10:00pm
From the Pastor
My Dear Parish Family,
May God bless you abundantly on this tremendous feast day! We celebrate the birthday of St. John the Baptist on June 24. Because it is our Patronal Feast, we are able to move it to the weekend so that we are all able to enjoy it to the fullest! We are so blessed to have the great cousin of our Lord Jesus Christ as our role model. Saint John is constantly pointing to our Lord and away from himself. He tells us that we must decrease so that He may increase. What a tremendous model of humility! What can often be the secret to true joy is made so clear in his example. We are made to give of ourselves, not to take. When we look to God and turn away from selfish deeds we naturally become more of who we are meant to be. By drawing on this strength from God you're able to resist earthly temptations and aspire to greater acts of compassion and self donation! Let us pray together with one voice to our patron and ask Saint John to make us more like him. Let us all prepare the way for the Lord and make straight His path into our hearts! Please continue to pray for me as I assure you of my prayers.
Saint John the Baptist, pray for us!
Rev. Brian Patrick Woodrow
News
The Confraternity of Christian Mothers will meet on Monday, June 29 at 7:45pm in the Knights Hall. All women of the Parish are invited to attend!
Register now for our popular SJAC SUMMER STRENGTH AND CONDITIONING CLASSES! Classes have started and are on Tuesdays and Thursdays from 6-7pm on Campus. The Registraion Form is available HERE.
If you would like your favorite recipe considered for inclusion in our 2015 Parish Cookbook, please complete this form, and place in the collection basket or send to the Parish Office.
Parish Store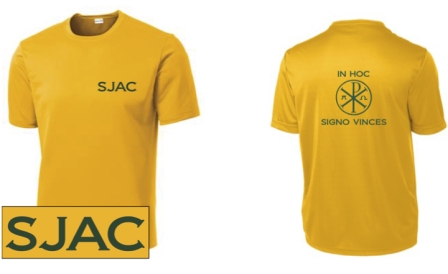 SAINT JOHN ATLETIC CLUB
Merchandise
Please click HERE
to go to Store Page