Upcoming Events
Feast of the Immaculate Conception

Holy Day of Obligation
Vigil Mass: Monday, December 7
7:00pm
Holy Day: Tuesday, December 8
7:00am
7:00pm (Extraordinary Form)

From the Pastor
My Dear Parish Family,
I'm very happy to share with you that our own Tim Graham is doing very well in seminary. I hear his professors and his classmates think very highly of him and rightfully so! When Tim was heading off to seminary I told him one of the best things you can do is get a good group of buddies around you so that you can support each other spiritually, academically and fraternally. That's advice that was given to me when I entered seminary myself. It's advice that we can all take to heart in our lives each and every day. We need to surround ourselves with people who call us on and who share our goals.
One of my very close friends from seminary and now my brother priest, is Fr. Michael Wallack. Father Mike just came back from the Holy Land. While he was there, he was so excited to share with me the photo (that is now on our bulletin cover HERE) of the birthplace of our own dear Saint John the Baptist! Images such as these and opportunities to travel to places of such great historical and spiritual value can never be overstated. Just as we should make friends with people who share our goals in this life, we must make sure we are making friends with those in the next life. We do this by praying to our patron saint and cultivating a healthy relationship with the saints who we admire most.
Let us continue to build our friendships with one another, always forged in the love of Christ! Let us call each other on to greatness. Please continue to pray for me as I will pray for you.
Saint John the Baptist, pray for us!
Rev. Brian Patrick Woodrow
News
Click on the icon above to go to our Facebook page with the latest photos and videos of our events.
NEW! SUPER 50/50 TICKETS will be on sale starting November 24. Drawing will be on December 12th at our Olde Tyme Christmas Village. Don't miss your chance to win!
Our PARISH COOKBOOK IS AVAILABLE FOR SALE! Click HERE for mail-in order form. Click HERE to go to our online store.
Parish Store
PARISH FAMILY COOKBOOK
SAINT JOHN ATHLETIC CLUB
NEWEST MERCHANDISE!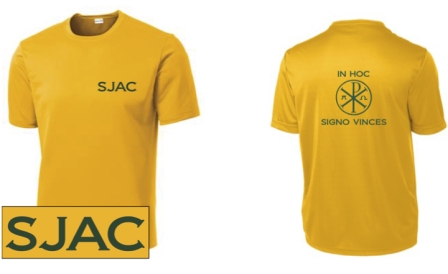 click HERE
to go to Store Page