Upcoming Events
SJAC COUNTRY WESTERN BBQ
THURSDAY, JULY 30
6PM - 10PM
$40 FOR ADULTS
12 AND UNDER FREE
Buy tickets online HERE
or call 609-259-3391



click on flyer for larger image
---

click on image for flyer
Mark your calendars
for our
ITALIAN FESTIVAL!
Friday, September 18
Saturday, September 19
6:00pm - 10:00pm
From the Pastor
My Dear Parish Family,
This past week, our own Knights of Columbus Council installed their new officers for the upcoming year. I would like to congratulate all of these men on their new responsibilities, and welcome Ken Krewson as the new Grand Knight. I am continually amazed by the Knights' hard work, faithfulness to our Catholic Church, camaraderie and service to our Parish and surrounding Community. They are a big part of our Parish Family and we are so very grateful for all that they do!
I would also like to take this opportunity to invite everyone to this Thursday night's Country Western BBQ, sponsored by our Saint John Athletic Club. The night will feature a great BBQ buffet, entertainment by a well-known Johnny Cash tribute band, and even a mechanical bull! Tickets are available after the weekend Masses, online on our website, and in the Parish Office during business hours.
I hope that you are able to enjoy these warm summer days that God has given us. It is so important for all of us to spend time with our loved ones and to be able to slow down a bit so that we are able to better hear Our Lord speaking to us in that "still small voice" ! Please continue to pray for me as I assure you I will pray for you.
Saint John the Baptist, pray for us!
Rev. Brian Patrick Woodrow
News
Calling all new and returning Catechists! Please join us on Wednesday, July 29 at 7pm in the Church Hall for a Catechist Reception. All are invited.
Our Saint John Athletic Club presents the SJAC Country Western BBQ on July 30! Tickets are only $40 and include a great BBQ buffet, a mechanical bull, and entertainment by the famous "Ring of Fire" Johnny Cash tribute band. Tickets available in website Parish Store, before and after our weekend Masses, or by calling 609-259-3391.
BREAKING NEWS! A new session of our SJAC Strength and Conditioning Classes has just been announced. The classes will run on Tuesdays, Thursdays and Saturdays from August 11 through September 26. More information will be in this weekend's bulletin and online.
Support our Parish Groups! Join us at the Trenton Thunder vs. Richmond Flying Squirrels on Saturday, August 22 at 7:05pm! Our Choirs will sing the National Anthem and more. Tickets are $8. Contact Judy Stern at 609-462-6823 to reserve your tickets by August 10! See the bulletin for more information.
Parish Store
SAINT JOHN ATHLETIC CLUB
JULY 30 COUNTRY WESTERN
BBQ TICKETS AVAILABLE ONLINE!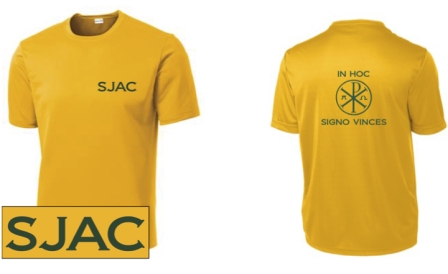 click HERE
to go to Store Page