Upcoming Events
Less than 20 tickets left
as of November 15!
CLICK HERE
TO ORDER TICKETS
From the Pastor
November is here and we remember in a special way the holy souls of our loved ones who have gone before us in faith. This is a time when we focus on praying for those who have died and we assist them with our prayers. Pope Saint John Paul II always spoke so beautifully about praying for our deceased loved ones and at the celebration of the Millennium, at the Commemoration of All the Faithful Departed in the year 2000 he encouraged this practice when he said,
"In praying for the dead, the Church above all contemplates the mystery of the Resurrection of Christ, who obtains salvation and eternal life for us through his Cross. Thus, with Saint Odilo, we can ceaselessly repeat: 'The Cross is my refuge, my way and my life.. The Cross is my invincible weapon. The Cross repels all evil The Cross dispels the darkness.' The Lord's Cross reminds us that all life is illumined by the light of Easter and that no situation is totally lost, for Christ conquered death and opened the way for us to true life. Redemption is brought about in the sacrifice of Christ, by which man redeems the debt of sin and is reconciled to God."
Let us take some time during this month to remember our loved ones and to renew our trust in the Holy Sacrifice of our Lord Jesus Christ on the Cross, which opened the gates of eternal life for us.
News
Click on the icon above to go to our Facebook page with the latest photos and videos of our events.
---
Thanksgiving Dinner
Our Saint John the Baptist Knights of Columbus Council 7333 is hosting a turkey dinner for our parishioners who may be celebrating the holiday alone or may be in need this holiday. Please contact the Grand Knight Charles Miele at 917-848-2313 as soon as possible to reserve your place. The complementary dinner will begin at 12:30pm on Thanksgiving Day in the Church Hall. Anyone wishing to help through service or donation should also contact the Grand Knight.
---
Our 2018-2019 Religious Education in-class Registration is now closed, as we are at capacity. Registration for our online program is available on the Religious Education page (see tab above).
---
Parish Store
OUR OWN
PARISH COOKBOOK!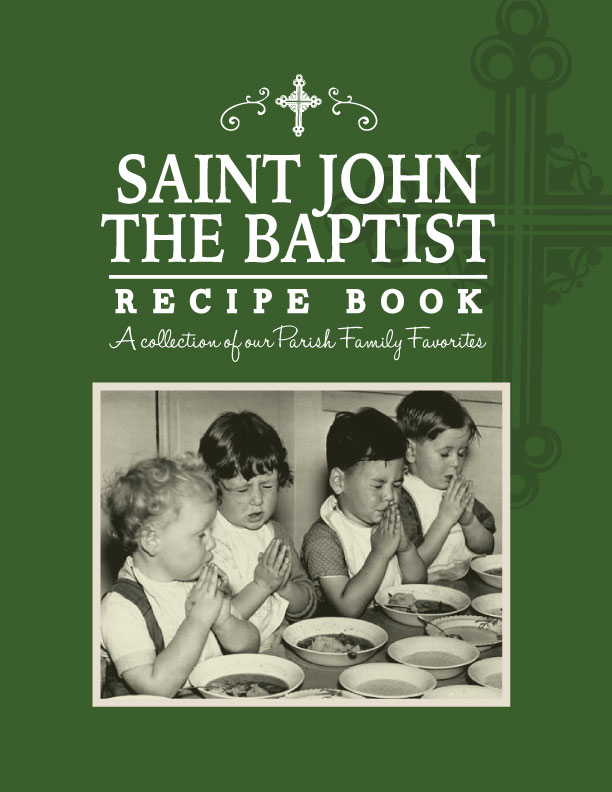 click HERE
to go to Store Page